Recap: Pitchfork Festival Day 1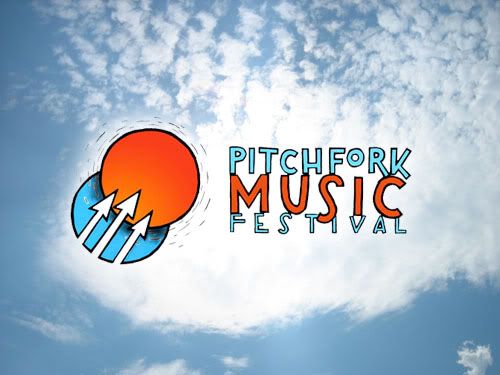 Nathaniel already gave you
his take
on Day 1 of the Pitchfork Festival, but I'd like to give you mine. I expand on a few things, touch on some things he hinted at or left out, and just generally offer my opinion, as redundant as it may end up being. If that sounds interesting, click the link below. I guarantee a few laughs, even if you're laughing at us.
Nathaniel and I arrived at the "well-lit" (double meaning) Union Park at 2:00PM on Saturday, greeted by festival volunteers, thousands of music fans, and a wall of humidity that could have knocked a pre-fab Star Jones off her feet. Union Park is a nice park located in downtown Chicago, with lots of open space, pathways, benches, and plenty of shade when required. As we walked through the main gate, the density of festival-goers got thicker but no where near what it would approach as the day progressed and cooled down. The first things we noticed were a) the heat, and b) this man:

Tim Tuten is his name, and relentlessly dorkiness is his game. Throughout the festival, Tim's affable voice echoed out over the crowd and park, urging festival attendees to stay hydrated, pick up after themselves, visit the Flatstock poster display, and to mind the sun and heat, as well as generally encouraging kindness. Tim introduced every band with a quirky, off-beat poetic jib-jab that somehow majestically ended on the name of the band (although those intros seemed to be absent on Day 2, for whatever reason). While he may have not always been on the ball (he referred to Mountain Goats as The Billy Goats after their set was over), he undoubtedly added a degree of charm and hospitality to an already charming and hospitable festival.



Man Man
[MP3] Spider Cider [MP3]


Man Man was the first band Nathaniel and I saw. They put on an audacious spectacle of a show, dekked out in tribal war paint, shoving their wild music and primative grunts down the throats of everyone in attendance. I entered that set as a casual, maybe even conditional listener of their debut, Six Demon Bag, but I left a tremendous supporter, appreciative of everything they had done for me in the mere 20 minutes I had spent engorged in their visceral performance. Nathaniel and I left slightly early, before Man Man ended, to get a good spot for Band Of Horses.



Band Of Horses
[MP3] The Funeral [MP3]


I have to admit, Band Of Horses was a huge draw for me to make it out to this year's festival. Everything All The Time is one of my favorite releases of the year, and "The Funeral" just might be my favorite song (at least during the 2 months after I first heard it). It's the kind of song that when imagined played live, there's only the beautiful music, a completely ethereal experience where nothing else in the world exists... nothing else matters. What was delivered, however, while certainly well played and enjoyable, wasn't anywhere near as earth-shattering and euphoric as I had imagined/hoped. I was simply satisfied....and, I suppose, there's nothing wrong with satisfaction.



After their set, Nathaniel and I trekked through the "faceless ocean of people" (as Jens Lekman later declared) to visit the concessions. I had expected conditions similar to the now infamous "water riots" of Woodstock '99: $8 bottles of water, food shortages, port-a-john overloads, and maddening hour-long lines. That couldn't be further from what was offered at Pitchfork: water for $1, Fuze juice for $2, relatively short lines... Everything was handled extremely well, and there was plenty of space out of the sun to enjoy your meal. Food ranged from fried chicken to pulled pork to pad thai...they even had vegan ice cream! Nathaniel and I weighed our options and settled for corned beef sandwiches, ate, and head back into the sun to catch Mountain Goats on Stage A.



Mountain Goats
[MP3] Song For Lonely Giants [MP3]


I have to admit, Nathaniel is the bigger Mountain Goats fan between the two of us. Sure, I liked The Sunset Tree, and I really love what I've heard from their upcoming album Get Lonely so far, but I wasn't familiar enough with their music to be as "into it" as most fans I'm sure. Despite this, however, the exuberant John Darnielle pulled off a fantastic show, at least what we saw of it. He's got a great stage presense considering the size of his performance, even when compared to Man Man and Liars. We only stayed for about 20 minutes before rushing off to get a good spot for Destroyer at Stage C.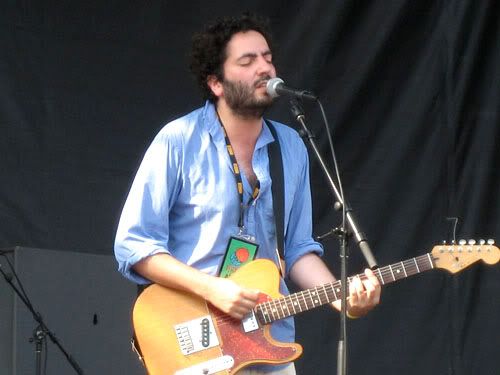 Destroyer
[MP3] European Oils [MP3]


When we arrived at the loosely formed pre-crowd in front of the stage, we spotted Matt and Matt, from YANP and Skatterbrain, respectively. We chatted for a sec, which was nice (I finally met some other bloggers!). Then came Destroyer... who was simply fantastic. His laid back set and attitude was relaxing, even in the heat surrounded by thousands of sweaty others, and his off-beat, sporadic elements of humor were charming, to say the least. He breezed through his set fairly quickly, stopping only once to swig a beer. His show urged me back into a Rubies fix for the second time (the first fix coming when heard the first song on the album for the first time). This time we got to stay for the entirety of his set, which certainly marked the high point of the festival thus far. Until I saw Ted Leo...

We had a little bit of time before Art Brut's set, so we decided to say hello to our new friend over at Sub Pop, Sarah Moody, whom I met while in Seattle a couple days before Pitchfork. We chatted for a bit...a long bit, apparently, because we missed almost all of Art Brut's set (it was worth it, totally), though I heard very good things from other attendees about his performance. Oh well... that didn't stop us from heading over to catch Ted Leo/Rx in what would later become the best performance of the day...



Ted Leo
[MP3] The Ballad Of The Sin Eater [MP3]


This was Nathaniel's first time seeing Ted Leo/Rx live, while it was around my 6th or 7th. I have to say, Mr. Leo and company are some of the most consistently amazing performers I've ever seen live. The songs are wonderfuly energetic, Ted has great stage presence, and the crowd went nuts to nearly every song. He played a few live songs, and luckily one that I hadn't heard before, which was nice. The pinnacle of his performance, which is obvious to anyone who was there (and can be seen in the photo above) was acheived during his always-fantastic rendition of "The Ballad Of The Sin Eater," a song which lyrically takes us all over the country, throughout time and space, on a mystical, political journey leaving most of us bewildered and eager. During the line "and then I woke up, all beaten and bloodied, and I couldn't tell if it was Jersey or Sierra León," he iconically headbutted the mic three times on the up-beat, causing a few trickles of blood to run down his nose and face. As the set ended and the crowd cheered, he slammed the mic onto the stage in a rush of adrenaline, and walked to his amp, further manipulating the pitch and frequencey of the last dying buzz of a monumental performance.

Ted put on the kind of canonizing performance that should be remembered for years and years, echoing a hint of similarity (while not quite as audacious) to the monumentality of such great on-stage moments as Jimi Hendrix lighting his guitar aflame at Montery, or Rage Against The Machine protesting the PMRC at Lollapalooza by standing nude onstage with nothing but tape over their mouths... The crowd simply ate it up.



The sun began to set. We were hungry. Ted Leo's performance, along with the other performances throughout the day, had given us enough rock for one day. We left as The Walkmen began their set... Nathaniel had seen them before, and I had seen The Futureheads before, so we called it a day, and walked out of the park and eventually made our way back to the hotel... tired, unphased, and ready to face Day 2 of the 2006 Pitchfork Music Festival.

I'll have that update for you all very shortly, so stick around!